WHILE I DON'T EXPECT MUCH of ANYONE to EVEN SEE (LET ALONE VOTE FOR) THIS FILM, I THOUGHT the FACT THAT IT http://www.huffingtonpost.com/2011/09/12/creature-film-box-office_n_958969.html - GENERATED by a FILM in WIDE RELEASE SHOULD EARN IT A PLACE HERE on OUR FORUM.
HERE's a http://www.boxofficemojo.com/movies/?id=creature2011.htm - to SEE JUST HOW LOWLY a GROSS CREATURE GENERATED from 1,507 THEATRES ACROSS AMERICA (IT AVERAGED a STUNNING $217 per THEATRE)...
HERE's an http://www.rottentomatoes.com/m/creature_2011/ - and a http://www.metacritic.com/movie/creature-2011 - http://www.metacritic.com/movie/creature-2011 - to SEE HOW CRIX SAVAGED THIS FILM...
and HERE's a http://www.creaturethemovie.com/ - to the FILM's OFFICIAL WEB SITE.
THE ONE DOWNSIDE to THIS FILM's UTTER DEMISE and DEMORALIZATION? IT OPENED the SAME DAY as http://www.razzies.com/forum/stoopid-iz-az-stoopid-duz_topic5348.html - and ROBBED THAT POTENTIAL RAZZIE® CLASSIC of the ONE RECORD IT MIGHT HAVE CLAIMED: "2001's BIGGEST BOX OFFICE BOMB"!
FEEL FREE to POST YOUR OWN THOUGHTS on CREATURE BELOW...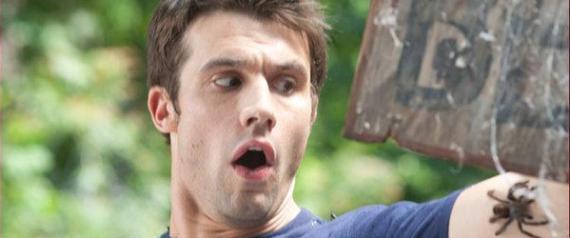 SCARED WHITE GUY: "Oh, Man! Why don't I think this spider's

bite will have the same effect on me that Peter Parker's spider

bite had on him?!?"









-------------
Ye Olde Head RAZZberry