EVERY NOW and THEN, THE BOZOS WHO CONTROL the PURSE STRINGS in HOLLYWOOD GET the NOT-TOO-BRIGHT NOTION to REMAKE SOMETHING ON a MONSTER BUDGET WHEN the ONLY APPEAL of the ORIGINAL WAS ITS ENDEARING CHEEZINESS. THE 2011 REMAKE of CONAN: THE BARBARIAN IS a PERFECT EXAMPLE.
FOR the 1982 ORIGINAL, AH-NULD GOT the FIRST of HIS MANY, MANY (MANY!) RAZZIE
®
NOMINATIONS, PLAYING WHAT WE JOKINGLY CALLED "CONAN the BAVARIAN." WE FONDLY RECALL ONE CRITIC REFERRING to AH-NULD's PERFORMANCE as "A DIM BULB, EVEN in the DARK AGES."
BUT, MUCH LIKE LAST YEAR's ILL-ADVISED, RAZZIE
®
-NOMINATED (BUT MONEY-MAKING) 3-D CLASH of the TITANS REMAKE, the "NEW, IMPROVED" CONAN HAS A HERCULEAN BUDGET, PROLONGED 3-D BATTLE SEQUENCES and ENOUGH BLOOD SPLATTERED ACROSS the SCREEN to SATISFY the MOST ARDENT SAW FAN.
WHAT IT DOESN'T HAVE IS ANY REASON to HAVE BEEN MADE. WELL, EXCEPT for the REASON JUST ABOUT EVERYTHING GETS MADE by HOLLYWOOD THESE DAZE -- ITz MAKERS HOPED to MINT MONEY.
FOR the SAKE of ORIGINAL THOUGHT in HOLLYWOOD, WE'RE DELIGHTED THIS ONE BOMBED. BUT THEN, AS WE WROTE THIS, THAT HIDEOUS 3-D SMURFS REMAKE WAS ABOUT to CROSS $250 MILLION in WORLDWIDE GROSSES (LINK) -- SOMETIMES the "GOOD FIGHT" BARELY SEEMS WORTH FIGHTING...
TO TAKE YER OWN BLUDGEON to the SKULL of THIS NUMB-SKULLED REMAKE, CLICK HERE and JOIN OUR FORUM DISCUSSION...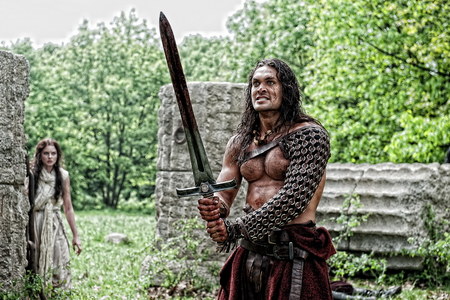 SOON-to-BE-FORGOTTEN CONAN-PLAYING GUY:
"I have to kill him -- He said my boobs were bigger
than my box office numbers!!"