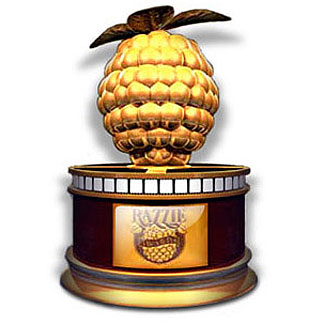 WITH ONLY FIVE SLOTS AVAILABLE for NOMINATIONS
and 15 POSSIBLE CHOICES,
WORST ACTOR IS ANOTHER OVER-CROWDED
RAZZIE
®
CATEGORY for 2010.
AS WITH OUR PREVIOUS 2010 POLLS,
WE ENCOURAGE YOU to PICK the ONE YOU THINK IZ
the BERRY WORST...
OR, IF YOU INSIST, LET US KNOW of OTHER
POSSIBLE CHOICES YOU THINK WE OMITTED.
IMPORTANT NOTE:
To clarify -- Forum polls are "just for fun," and have nothing to do with
the actual/eventual results of this year's RAZZIE® Awards,
which are determined by dues-paying Voting Members of the G.R.A.F.
If you would like to become a Voting Member and receive
both Nominating and Final Ballots for this year's RAZZIES®,
here's the LINK to do so: